Stone Temple Pilots Biography
as compiled by the users of last.fm
Name
: Stone Temple Pilots
Music Brainz ID
: 8c32bb01-58a3-453b-8050-8c0620edb0e5
Last.fm url
:
http://www.last.fm/music/Stone+Temple+Pilots
listeners
: 1456912
playcount
: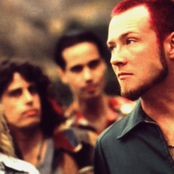 Similar Artists
:
Scott Weiland
,
Soundgarden
,
Alice in Chains
,
Jerry Cantrell
,
Candlebox
,
Popular Tags
:
Grunge
,
rock
,
alternative rock
,
alternative
,
90s
,
Published/Updated
: 18 Mar 2006, 08:55
Biography
: Stone Temple Pilots (commonly referred to as "STP") is a Grammy Award-winning American rock band consisting of Chester Bennington (vocals), brothers Robert DeLeo (bass guitar, vocals) and Dean DeLeo (guitar), and Eric Kretz (drums, percussion). The band was originally active from 1986 to 2003, and reunited in 2008.
The band's five studio albums have sold over 17 million copies in the United States alone. The band has had fifteen top ten singles on the Billboard rock charts, including six number ones, and one number one album on the pop charts (1994's Purple). In 1993, the band won a Grammy for "Best Hard Rock Performance" for their song "Plush". Stone Temple Pilots were also ranked at number 40 on VH1's The 100 Greatest Artists of Hard Rock. In 2003, the band released the greatest hits compilation Thank You. Around this time, band members began going their separate ways. After the band's break-up in 2003 , original lead singer Scott Weiland became the frontman of Velvet Revolver with former members of Guns N' Roses. The DeLeo brothers formed the band Army of Anyone with Richard Patrick of the band Filter. Kretz founded Bomb Shelter Studios in Los Angeles.
The band reunited in 2008 after Weiland split from Velvet Revolver, kicking off the tour at the Rock on the Range festival in Columbus, Ohio. The band released their self titled sixth album in 2010.
Scott Weiland was fired from the band in February 2013; the remaining band members then hired Chester Bennington, of Linkin Park fame, to carry on as lead singer.
Album List:
1993: Core
1995: Purple
1996: Tiny Music... Song from the Vatican Gift Shop
1999: No. 4
2001: Shangri-la dee da
2003: Thank You (Best of Stone Temple Pilots)
2010: Stone Temple Pilots (Self-titled)
2013: High Rise (EP)
Read more on Last.fm
. User-contributed text is available under the Creative Commons By-SA License; additional terms may apply.