Name
: Wings
Music Brainz ID
: f64a18dd-af21-4efe-bf78-3a6a8c829702
Last.fm url
:
http://www.last.fm/music/Wings
listeners
: 497018
playcount
: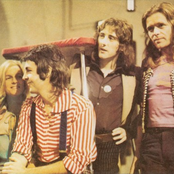 Similar Artists
:
Paul McCartney
,
Paul & Linda McCartney
,
Paul McCartney & Wings
,
Ringo Starr
,
John Lennon
,
Popular Tags
:
classic rock
,
rock
,
70s
,
british
,
pop
,
Published/Updated
: 04 Mar 2006, 15:03
Biography
: Three bands are known to have used the name Wings, one from UK, the others from Malaysia and Finland. A duo in Korea is also using the name Wings (윙스).
1. Wings (also known as Paul McCartney & Wings) from UK. Late in 1971, drummer Denny Seiwell, and ex-Moody Blues guitarist and singer Denny Laine, joined Paul McCartney and wife Linda McCartney to record Paul McCartney's third post-The Beatles project. The result was Wild Life, the first project to credit Wings.
In 1972, Paul McCartney returned to touring, mounting an impromptu tour of UK universities and later a tour of small European venues (with the group driving around in a van), playing no The Beatles numbers. He scored hits with the relatively light singles "Give Ireland Back to the Irish" (banned by the BBC for its political stance, and only mentioned in chart rundowns on Radio 1 as 'a record by Wings'), "Mary Had a Little Lamb", and "Hi Hi Hi" (again, banned by the BBC for alleged drug and sexual references).
In early 1973, Paul McCartney repeated this pattern, adding ex-Spooky Tooth guitarist Henry McCullough, and re-christening the band Paul McCartney and Wings for the album Red Rose Speedway.
Following the release of Speedway, Denny Seiwell and Henry McCullough left the band, leaving the McCartneys and Denny Laine to cut their next album at EMI's recording studio in Lagos, Nigeria, recording what turned out to be their breakthrough album, Band on the Run.
After this, Jimmy McCulloch and Geoff Britton, lead guitar and drums respectively, joined the band, now named Wings again. The first recording session with the new members was held in Nashville and produced the rocky non-album single "Junior's Farm". The new lineup then moved to New Orleans to create the album Venus and Mars (1975), followed by a return to Nashville for Wings at the Speed of Sound (1976); both albums took top chart positions. During this time, replaced Britton on drums. Speed of Sound represented a substantial departure from the Wings template in that each member of the band sang at least one song, including Linda ("Cook of the House").
According to the excerpts above, the only albums credited to "Paul McCartney & Wings" are Red Rose Speedway (1973) and Band on the Run (1973).
2. Wings: A Rock band from Malaysia. Their history began on the establishment in 1985 the Secondary School Sri Ampang in Kuala Lumpur. There, four young men who are still demanding joined forces to form a school band. As motivated and very interested in Rock music, especially rhythm, they agreed to singing rock'n'roll participating during their presentations. When it began the birth of WINGS although this group has no name.
Wings' original members are Awie, Jojet, Jo and Sham. The break-hit group when Jojet migrate to GERSANG while Arid and Jo resigned. While Syria set up new groups, named Group CRK. More info at http://ms.wikipedia.org/wiki/Wings
Band consists of :
Vocalists:
1) Awie (Ahmad Azhar Othman) 1985 - 1993. 2002 - Now
2) Mel (Ismail Zainuddin) 1995 - 1996
3) Mus (Mustafa Din) 1996 - 2001
Guitarists
1) Sham (Sham Baharom) 1985 - 1987
2) Tham Wing Kwan 1987
3) Joe (Abdul Zamin bin Abdul Kadir) 1988
Bassist
Eddie (Samsaidi Haji Ulong Idris) 1985 -Now
Drummer
1)Black(Azmi Hashim) 1985 - 1990. 1994 - Now
2) Jojet 1990 - 1993
3. Wings was also a Finnish death metal band which started in the early 90's as a side project of Cartilage's Gabriel Suoraniemi. This incarnation of Wings released a demo and a 7''EP. In 1994 Suoraniemi found a full line-up and the style changed to a more modern direction. They released one demo and a full-lenght album through Woodcut Productions (run by Suoraniemi's ex-Cartilage comrade Mikki Salo) before splitting up. Most of the Wings line-up played in Enochian Crescent as well.
Read more on Last.fm
. User-contributed text is available under the Creative Commons By-SA License; additional terms may apply.