as compiled by the users of last.fm
Name
: Yamantaka // Sonic Titan
Music Brainz ID
: 271a697f-8ab1-43ac-ae7a-2c72b1579820
Last.fm url
:
http://www.last.fm/music/+noredirect/Yamantaka+%2F%2F+Sonic+Titan
listeners
: 13803
playcount
: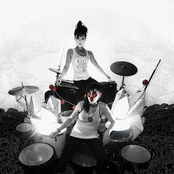 Similar Artists
:
Tanya Tagaq
,
Perfect Pussy
,
Bo Ningen
,
Moonface
,
The Constantines
,
Popular Tags
:
Progressive rock
,
experimental
,
noise pop
,
seen live
,
noh wave
,
Published/Updated
: 13 Jan 2012, 06:50
Biography
: YT//ST was founded in late 2007 by performance artists alaska B and Ruby Kato Attwood, born from the ashes of the late Lesbian Fight Club. Armed with mixed-race identities, mad illustration skills and a whole pile of home-brew junk electronics, alaska and Ruby wrote and performed the first mini 'Noh-Wave' Opera, 'YAMANTAKA // SONIC TITAN I' in April 2008. YT//ST continued to perform short homebrewed operas, eventually forming a network of Asian and Indigenous artists through collaboration and formed the current YT//ST collective. Montrealers had come to know YT//ST by their dazzling musical theatre performances in giant monochrome paper sets, sometimes in far out places, like the Montreal Eaton Centre Food Court at 2AM. Aesthetically, they blend the poorly appropriated styles of Noh, Chinese Opera, Chinese, Japanese and First Nations Mythology, Black & White Television, Psychedelia & Rock Operatics into a sensory feast of nigh-monochromatic costuming, unique hand-built musical instruments and their own mangaesque cardboard 'NEVERFLAT' style of 2.5D set design.
Read more on Last.fm
. User-contributed text is available under the Creative Commons By-SA License; additional terms may apply.